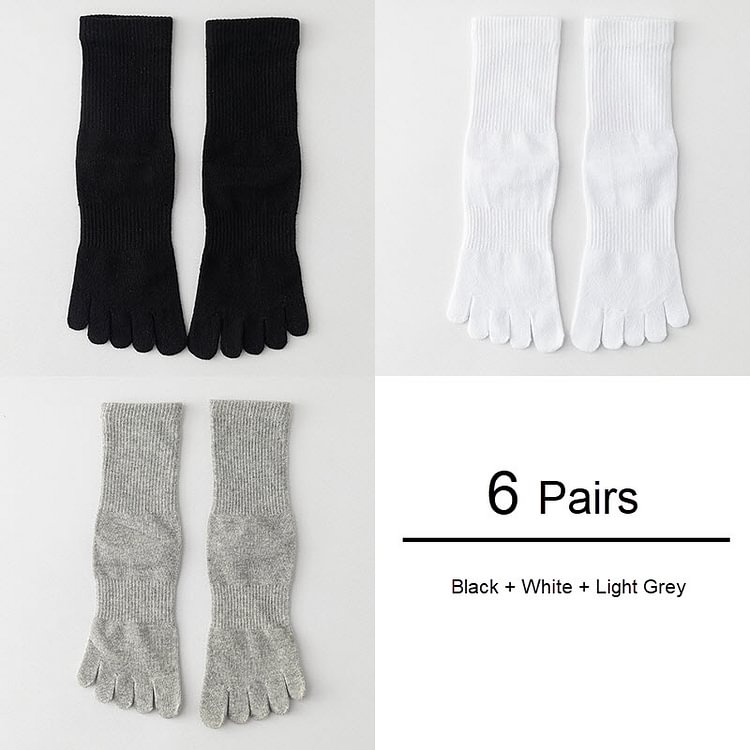 Elastic,Cotton,Spandex,Nylon
Machine Wash
HIGH MATERIAL: 81% cotton ( the body of the toe socks), 15% spandex ( for the elastic of socks' body, so that it can adapt for more foot), 4% nylon ( in order to combine all parts of the socks, foot finger, ankle and others, they have their's position).
BREATHABLE. Made of high quality cotton, flexible enough to breathe freely. A good cotton material will absorb sweat.
The Y DESIGN for the heel: the heel portion of the sock is sewn independently, and the shape of the sock is sealed with a Y shape to better fit the shape of the foot. Fit is the best.
The role of FIVE-FINGER socks. The five toes can be moved independently each toe has its own position. Shaping the shape of a beautiful toe.
The PACKAGE contains 6 pairs of socks. There have 9 different color. The socks are flexible and suitable for 5-9 feet, suitable for most people. Machine wash or hand wash can be all.
Featured:
6 pairs of cotton women's five-finger socks in the package.
Color: blue, khaki, pink, black, grey.
Material composition: 81% cotton, 15% spandex, 4% nylon.
Pay Attention To The Special:
1.Exceeding your imagination for stretchability and comfort.
2.Double-layered socks are the best protection for the soles of the feet in the winter, away from the cracks in the feet and locking the heat.
3.You can use it as a floor sock and walk freely on the floor to experience the feeling of not wearing shoes.
4.Separate your toes so they don't hurt each other. Keep away from the ankles.
5.Not easy to pilling is another big advantage of it.
6. The heel part of the sock is a separate three-dimensional shape. Let socks fit your feet better. Not easy to fall off during walking.
7. The material of cotton, healthy material. Cotton itself has the flexibility to fit more foot sizes. (US: 5-9)
WHY YOU NEED CaiDieNu 5 TOE SOCKS?
EASY TO PUT ON - Toes are the Right Size,Stretchy.

SINGLE COLORS? NO WAY! - Colors are Pastel and Pretty.

SWEET GIFTS - It's Great to buy these as a GIFT for your friends.

HELP FEET PROBLEMS - Prevent Toes from Rubbing Together.

DO NOT SLIP DOWN - Perfect Fit,Not Too Tight Nor Too Loose.They Do Not Slip Down Into Your Shoes.

GOOD SEWING - From the color to texture to sewing,they don't Have Lots of Threads Tied in Knots inside.

NO MORE SWEATY FEET - Great & Breathable for Wearing with Boots,Sandals,Sneakers etc.Go with everything you wear,you can even wear them as flip flop socks.
Blister Prevention
CaiDieNu five big toe socks for men will keep each toe separated and spread to reduce friction between toes and cut down the risk of blisters.
Toe Separated Design
Toe socks reduce friction from your toes rubbing against each other helping some feet problems.